Free Standing Decks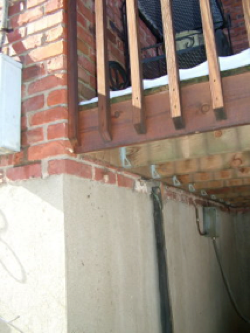 We are one of the few companies that use this construction method because we feel it is the strongest and safest way to properly support your new structure. The deck ledger board in this picture is bolted directly to the house. If water gets between the ledger board and the brick, or siding, or stucco, it may never dry out. What's more, imagine if water trickles through the bolt holes into the house!
Our free standing decks will not cause leaks at the house and will not collapse due to rot. Connecting the deck to columns or posts correctly is critical.
Freestanding decks offer enormous peace of mind because there are never going to be any leaks that could cause collapse due to rot. The deck is constructed in a similar manner to a beach house that is built on piers. In other words, the deck simply has four or more legs much like a table in your kitchen or dining room.
An existing deck can also be retrofitted if you choose to make your deck free standing. The additional support columns might be able to rest upon your existing house footer. The new beam that will replace your deck ledger board only needs to be spaced 2 inches away from the existing exterior wall of the house. This spacing is more than adequate to allow water to drain between the house and beam.
Combo decks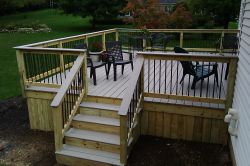 By using a combination of composite material ,aluminum balusters and traditional pressure treated lumber we can achieve an extremely low maintenance deck that is both beautiful and cost effective.
Because flat surfaces on a deck such as the top hand rail, steps and flooring hold standing water and ice they are the most difficult areas to maintain, By using composite materials in these areas we eliminate the need for power washing and sealing .
Aluminum balusters are a great alternative to wood and come in many colors and styles. This decorative option eliminates the need for time consuming and costly maintenance. Anyone who has stained an all wood railing can attest to this fact.
By using traditional pressure treated lumber on all vertical surfaces and frame work we are able to keep the cost of the deck down in comparison to using all composite materials. Because the frame is hidden and the vertical surfaces don't hold water, these areas are the least susceptible to weather and moister damage and are a fraction of the overall surface area of the deck cutting sealing time down significantly.
We also offer the option to use composite, plastic, or aluminum railings ,as well as composite fascia board to finish exposed frame work.
Traditional wood decks
pressure treated
cedar
redwood
ipe