Cleaning Decks and Long Term Protection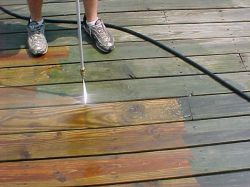 Deck Cleaning is one of the most popular wood restoration projects performed throughout the country. Every home owner that has a deck made from treated lumber needs to add deck cleaning to their maintenance program in order to make the wood last for many years, and to keep it looking great.
At The Deck Doctor, we fully understand the need to keep your deck protected from the elements, and how important it is to clean and seal your deck with professional grade cleaners and wood sealers.
It is also important to use the right pressure washing equipment set to the correct psi in order to prevent the wood from being damaged. Applying the wood sealer evenly to a clean surface is also a very important step that must be done with care so you do not end up with streaks, runs or light and dark spots. Applying the products evenly will also ensure protection.
This is where hiring an expert deck cleaning contractor comes into play. Anyone with the desire can use a pressure washer to clean a house or rinse a driveway, but when it comes to wood restoration, not everyone has the know-how to clean traditional lumber, or the more exotic woods like ipe and cedar. Only experianced perfessionals like those at The Deck Doctor should complete these projects.
It takes time, patients and a lot of skill to restore a deck to a like new appearence. So having the job done right the first time is important to the life of the lumber, and will determine how appealing the deck will look for years to come.
We also provide other wood restoration and power washing services for fences, roofs, driveways, concrete and more.
Sealers and Semi Tranparents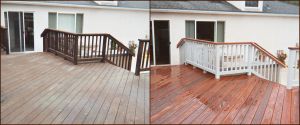 A clear sealant lets the natural beauty of the wood show through, but won´t provide the same UV protection as a pigmented finish. For this reason, a clear sealant needs to be reapplied every 12 to 18 months, while a pigmented one can last for up to three years. The sealant should protect your wood against both moisture and sun damage.
Painting With Solid Colors
Solid color deck stains can be applied to your deck, but they will not provide the same degree of protection as sealers and semi transparent products. If solid colors are used it's best to use these products on vertical surfaces only such as railing balusters, as it will not stand up well under foot traffic and standing water.
Environmental costs of poor deck maintenance
In addition to a financial cost to the homeowner, there is also an environmental cost of poor deck maintenance. Each year about 3 million new decks are built in the United States. Every year an additional 3 million decks are replaced or repaired due largely to poor maintenance. This wasteful use of lumber contributes to the depletion of our nation's forests, and the unnecessary loss of an important ecological resource. The average acre of forest yields only enough wood for two or three decks to be replaced each year. But, with a little maintenance and care, the average deck can easily last several decades. If all decks in the U.S. were cared for properly, it would save over 6 million trees from being cut in one ten year span.