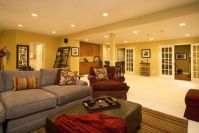 Every year, MacDonough Enterprises successfully performs numerous remodeling projects for homeowners in the Central New York area. Our experience and attention to detail guarantees our customers the peace of mind they deserve, and assures them they are getting the job done right. We pride ourselves on providing an exceptional remodeling experience every step of the way. Please call for a free consultation today!
5 Reasons To Hire 
MacDonough Enterprises
Owner on site everyday means no project manager and multiple people trying to make decisions. We do all our own work so we are there everyday.
Our Passion for Quality and our attention to Detail. We are driven to do only quality work from start to finish so our final product is something you want to share with family and friends.
Daily communication - The key to the success of your project is good communication, and a big part of communication is listening. We welcome your feedback!
Quick& Efficient Turn-Around Time - We work quickly and efficiently to help minimize costs. A tight schedule will keep your inconvenience to a minimum.
Permits and Inspections. We pull all the necessary permits and have the proper inspections throughout the process so you are guaranteed the project is completed properly.